A woman has the right to buy and own property in India. Young or old, rich or poor, single or married – there is nothing to hold back the modern Indian woman from investing in HER dream home. India is the 5th largest economy in the world, with 48% of its population constituting females. But until 2019, the workforce participation rate of women was only about 23.4%. However, things are changing – especially in sectors like the IT-ITeS industry, where women workers rose significantly to about 35% in 2020, giving them more financial independence and the means to buy a new home. Further, family commitments have also increased the participation of women in decisions around buying a home. How to invest in property in India is now common knowledge to both men and women.
Why more women are buying homes
For a woman, the reason to own a home may be – security. The other may include diversifying the investment portfolio, availing government benefits, independence, and succession.
Today more women want to know the types of real estate investments in India. Some of the initiators of this growing trend are: –
Improvements in the educational qualifications of women have contributed to better-paid jobs. The Beti Bachao, Beti Padhao (BBBP) scheme was launched on 22 January 2015 by PM Narendra Modi to eradicate female foeticide and educate the girl child.
Public programmes like MNREGA (Mahatma Gandhi National Rural Employment Guarantee Act) guarantee women the 'right to work'.
The 2017 Maternity Benefit Act increased paid maternity leave from 12 weeks to 26 weeks allowing women to return to their jobs after motherhood.
Factories Act 1948 made child care facilities like crèches mandatory in establishments with more than 50 employees. It allowed women to bring their infants with them to the place of work while they earned their livelihood.
Introduction of Flexi hours and part-time work for women.
Skilled-based training to enhance women workers' employability.
Quality transportation for working women. The Ladies Special local train in Mumbai is one such initiative for the safety of thousands of women who travel to work by train.
Above this, the share of women in Senior Management has also increased. Women have become self-confident, financially stronger, and in a position to more for the family. Women can afford and are ready to go out and fulfil their dreams to buy a home.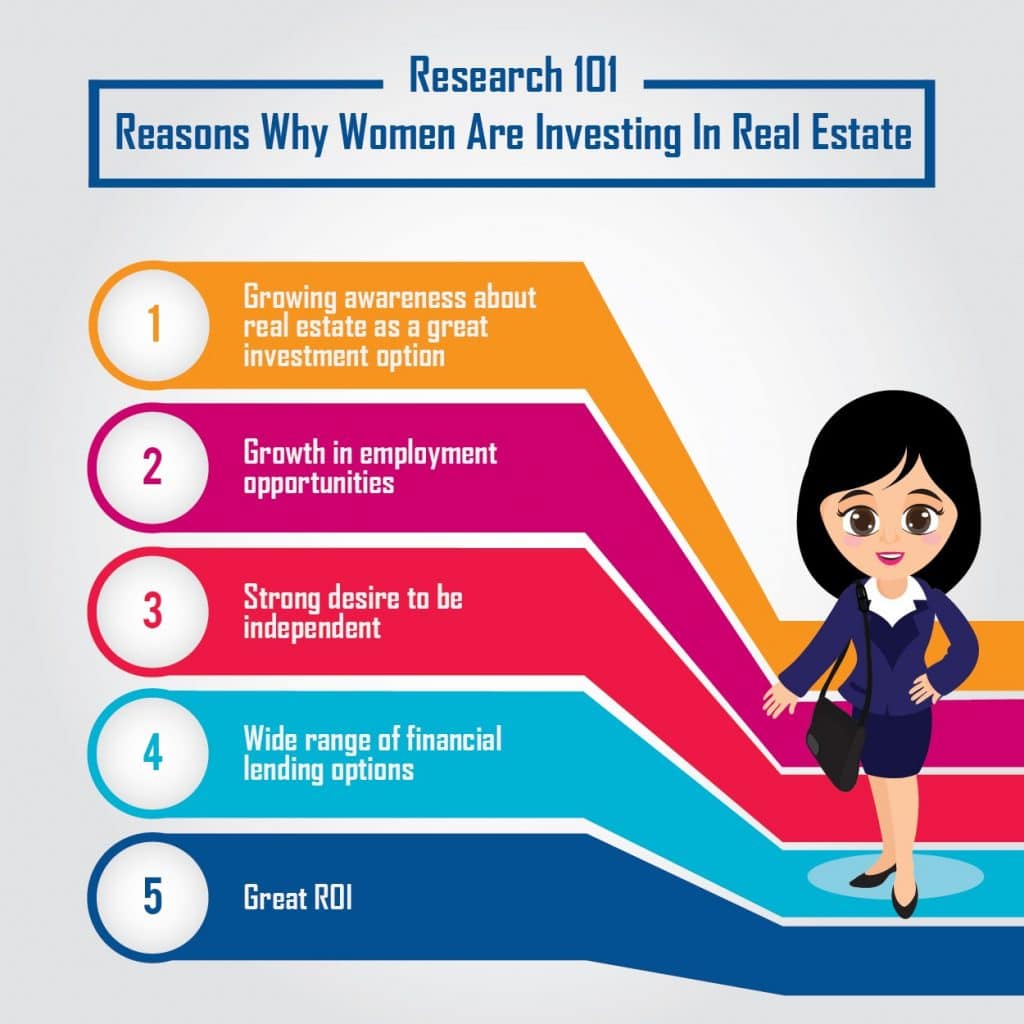 In keeping with the above initiatives to bring women to the fore, the Indian government has also offered other direct incentives to increase property ownership. These specifically include: –
Lower stamp duty if a property is registered in the name of a woman. In most Indian states, women pay 100 to 200 basis points lower rates on stamp duty charges.
A lesser rate of interest for home loans to women borrowers. The rates are 50-100 basis points lower than the rate applicable to male borrowers.
Tax benefits to first-time homeowners to claim tax deductions on income under Section 80C, Section 24, and Sections 80EE and 80EEA.
When a single woman arrives in a metro city like Mumbai or Bangalore for a job opportunity, she often starts by looking for houses for rent. But within three years, most women begin to shop for a property for sale to avoid paying exorbitant rents. Such women are becoming a powerful force and a significant chunk of the real estate market of India.
Steps to buying a house
When you are a first time home buyer, consider the following before buying a home:-
1. Check your finances
The first step is to check if you have enough money up-front to buy a new house. While budgeting for a new home, do not just look at the property price but also consider recurring expenses such as property taxes, insurance, and monthly maintenance fees.
2. Apply for a loan
Buy a starter home that will not burn a hole in your pocket. Speak with home loan companies and banks to compare for the best interest rates available in the market. Borrow to buy only as much as is comfortable. A home loan can also help to get an emergency top-up loan.
3. Look for properties
Once you have your finances organized, it is time to go home hunting. Contact a real estate agent or search online for properties for sale near me. Start by asking few questions like –what size of home do I need; do I feel safe in this locality; is it easy to commute to work; does it fit into my lifestyle. Get a brand new property or find a suitable listing in 'Homes For Sale' to buy a second-hand home.
4. Factor in long-term changes
It is advisable to have an exit strategy planned and in place. Over time your living accommodation may change due to reasons like marriage, moving to another city for a job, etc. It is necessary that you are ready to either rent the property or even sell it and buy a city home someplace else.
5. Persevere
The journey to homeownership, especially if you a woman, is not an easy task in a country like India. You will face ups and downs from the minute you express an intent to buy a home. Stay calm, stay focused until you have the keys of your home in your hand.
Conclusion
In India, for a woman to buy a home may take several months to years. Planning finances to completing banking formalities to finding the right home may feel like a daunting task, especially if you are a first-time homebuyer. Now companies like "HERHIGHNEST", help women make their dream of owning a home become a reality sooner. This is the best time to buy a home. Whether a luxury home, a holiday home, best flats for sale near me, go get it!